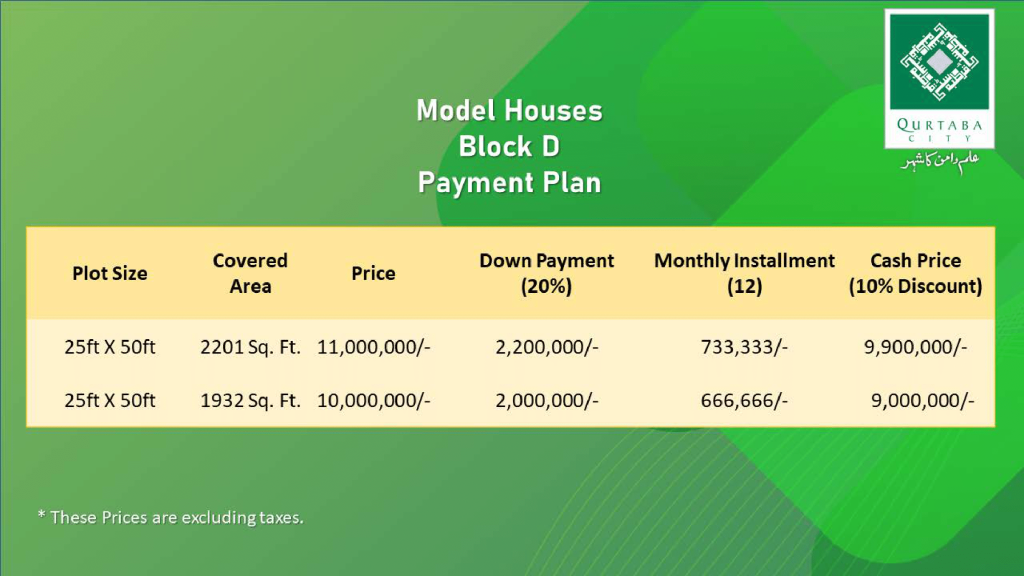 Qurtaba Model Houses
Finding a beautiful house with an ideal location and a reasonable price tag may sound like an elusive dream. But at Qurtaba City the dreams come to life, it's the best emerging neighborhood of Islamabad, the Capital.
Location:
The location of a house plays a vital role in its desirability and overall value, and being situated on a main boulevard adds an extra layer of significance. Qurtaba City is offering houses which are located in Block D, on the 200 ft wide main boulevard circling the Heart of the Project i.e. Qurtaba International University and Jamia Masjid Qurtaba. It's the best location which can be of a 5 malra house in the city of peace and knowledge.
Beauty of Design:
The beauty of a house extends beyond its interior, encompassing the charm and appeal of its elevation and exterior. We know that the elevation serves as the first impression, creating a lasting impact on visitors and passersby, a well-designed and aesthetically pleasing exterior can enhance the overall appeal of a house, making it stand out from the surrounding buildings. We have ensured elements such as architectural detailing, harmonious color schemes, elegant materials, and thoughtful landscaping, they all contribute to creating a visually stunning façade to set the tone for the entire property, evoking a sense of pride and inviting admiration from all who encounter it. The Architectural design and elevations of these houses are a blend of magnificence and convenience.
Optimized Floor/Architectural plan
The Floor/architectural plans of these house are well-thought-out designs that maximizes the functionality, efficiency, and comfort of the living space. We have considered the needs and lifestyle of the occupants, as well as the constraints of the site. The designs have incorporated smart space utilization, ensuring that each room serves a specific purpose and flows seamlessly into the next. The layout optimizes natural light and ventilation, enhancing energy efficiency and creating a pleasant living environment.
Amenities nearby
Beautiful Masjid of Block D on 2 minutes walking distance
Commercial area located on 2 minutes walking distance
Qurtaba School also located on 2 minutes walking distance. (under construction)
Electricity
Water supply
Traveling convenience
Block D park will also at 2 minutes distance.
Video Link